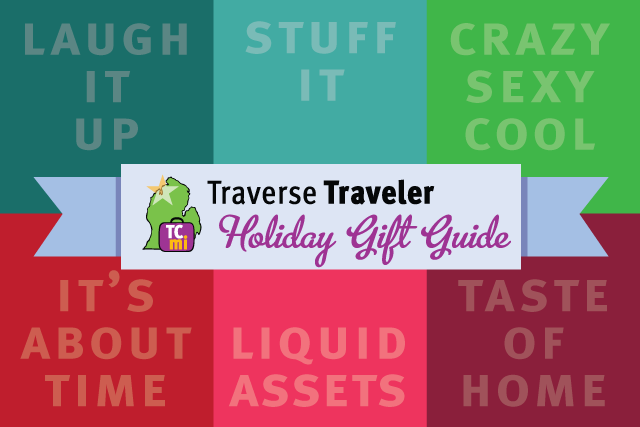 I know it's challenging to find the time to scour the stores hunting for the perfect gift. So each year I sneak out to our local retailers in search of eye catching items for someone special on your list. I hope these suggestions will get the holiday spirit flowing. Each item includes a price (or price range) and the northern Michigan store where it can be purchased. I encourage you to shop local and help boost the economy in our own backyard.
Happy holiday hunting!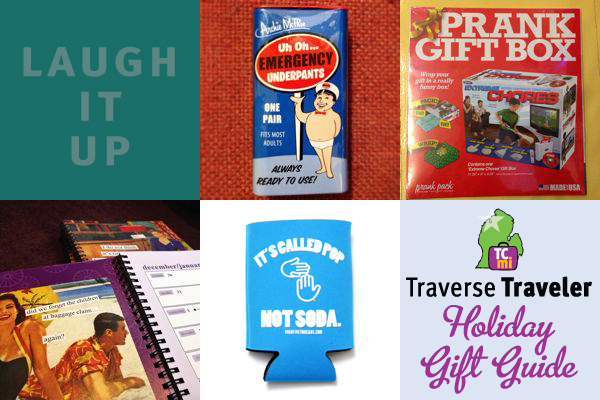 Laugh It Up
Here's something I bet you don't have in that emergency kit you keep in the car: emergency underpants. Laugh now, but I bet you're thinking about some potential situations where these might come in handy. So you might want to buy 2. Best of all they fit in a box no bigger than TicTacs. Ask for them at Cool Stuff Express | $4.49
If you've ever watched a 2-year-old open their gifts you already know it's not what's inside that counts. It's all about the box. Fool the big kids with these prank gift boxes. Who wouldn't want the latest video game: Extreme Chores! These pranks and more are available at Cool Stuff Express | $5.95
Time flies. Watch it pass with a little humor. With this Ann Taintor engagement calendar there's a clever jab on reality each week. Great for girlfriends with attitude. Available at Nifty Things in Traverse City | $15.99
Every Midwesterner knows: It's called Pop, not Soda. The folks at High Five Threads had the smarts to print it on a can koozie so you can share your thoughts with the rest of the world. Raise your cans across the lands. What a great gift for anyone homesick for Michigan. Available at High Five Threads | $6

Stuff It
Teens and tweens would love a stocking stuffed with these cute and sassy socks from Blue Q. Wild feet scream platitudes with attitude. And you can't beat the price. Available at The Happy Woman in Suttons Bay | $8
Sometimes you just need a steady hand — or a spare one — so here you go. Check out the Promaster keychain tripod. This tiny tripod supports your point-and-shoot camera.  Or, with the additional smartphone adapter, you get a pocket-sized perch for hands-free selfies. Find them at The Camera Shop in Traverse City | $9.99 each
Deck the halls with lots of bacon, fa-la-la-la-la… Bacon bandaids, gumballs, candy canes, toothpaste, even a bacon-scented mustache. Bacon. It's what's cookin' at Cool Stuff Express on Union Street in TC | $2.95–$5.95
Secret Boxes make the perfect stocking stuffer for anyone on your list. The intricate wood inlay designs are beautiful works of art. But slide their lids to reveal secret spaces for tucking in something useful, or something special. It's a gift. It's a box. It's fabulous. Shop Gallery Fifty to make your selection | $15–$20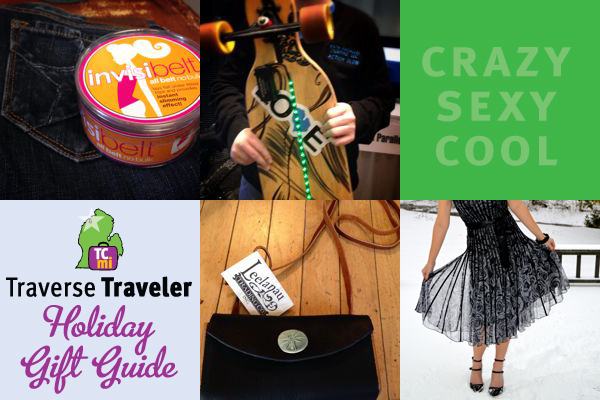 Crazy Sexy Cool
Ladies, this is a style must-have for a sexy waistline. No more ugly bulge where your shirt stretches over your belt buckle. The Invisibelt is a clear, plastic belt with no bulky buckle. Find it at Relish in the warehouse district, Traverse City | $19.95
Your kids will be the coolest on the block, the slopes or in the water. Action Glow kits are strips of LED lights that affix to bikes, longboards, skis and snowboards. And get this: they're not only made in Michigan, the entrepreneurs are 15- and 18-year-old Traverse City students! Buy them online at 45Lights.com | $29.99 – $49.99
This leather clutch hand-crafted by the Leelanau Trading Co. is a Fab find for sure. They're known for quality leather goods including bound journals, totes and travel luggage. Shop Great Goods, a new store in Suttons Bay | $25-$220
With New Years Eve falling on the heels of the gift giving season, why not give someone the gift of style. Talk about sexy, she'll love this ribbons and roses dress from Papillon. Available at Relish. Photo courtesy of K on the Bay | $120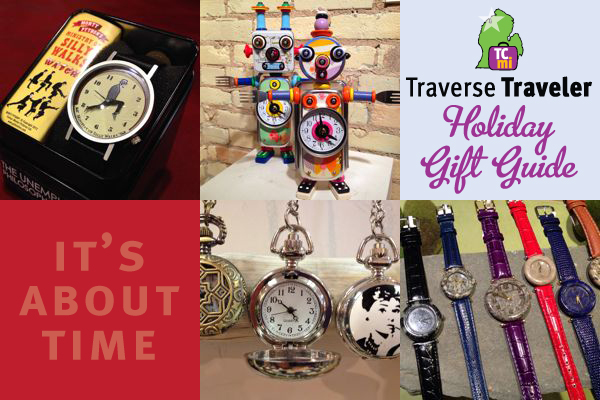 It's About Time
For all the Monty Python fans out there, here's a clever gift to add to your collection. This watch celebrates the Ministry of Silly Walks. Time quite literally marches on with awkward legs. Which walk is the silliest? My money is on 11:05. Available at Brilliant Books in Traverse City | $39.95
Boss Brown Art wall clocks are a crazy & cool. Each clock is a unique collection of colorful recycled utensils, beads and baubles. Great in a kitchy kitchen, artsy office or kids playroom. Pick your favorite character at Gallery Fifty in the Village at Grand Traverse Commons | $99–$125
I love these lockets. The retro vintage designs are not just beautiful necklaces. They're all working time pieces too. And you can't beat the price. What a great gift idea from The Happy Woman in Suttons Bay | $28
Fashioned from lapis, chrysoprase or beach stones including granite and petoskey these Becky Thatcher original watches are a best seller for a reason. They're classics. If you love the beach, or know someone who does, this would make a perfect gift. Available from Becky Thatcher Designs in Glen Arbor, Traverse City and Leland | $125–$225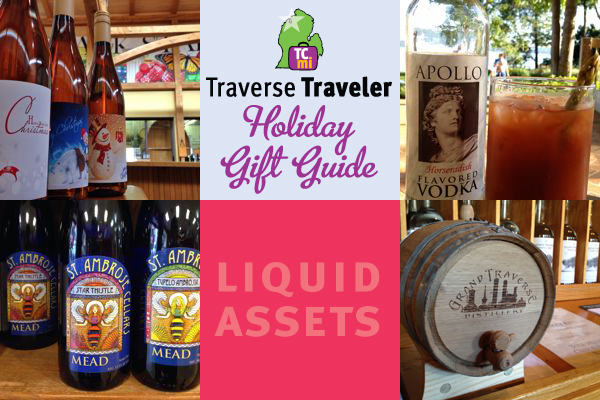 Liquid Assets
You won't need a gift tag with these Holiday label wines. Choose from three festive designs, and your choice of off-dry Chardonnay or Semi-Dry Riesling from Black Star Farms in Suttons Bay, Old Mission and The Village | $10
The secret to a good Bloody Mary is that spicy kick. So imagine my surprise when I discovered this Apollo horseradish vodka. And best of all, it's made in northern Michigan. Pick up a bottle for Sunday brunch from the folks at Northern Latitudes Distillery in Lake Leelanau | $29.95
St Ambrose Cellars is hidden among the back roads of Benzie County. But I'm happy to spread the word about their signature blue bottled sweetness. The world's oldest fermented beverage: mead. Pick up a Star Thistle or Tupelo Ambrosia Mead, made from Sleeping Bear Farms honey. Available in retail locations throughout the region, and at the winery | $10.99
If there's a whiskey fan in your family why not give them their own private stock. This whiskey kit from Grand Traverse Distillery is perfect for anyone with a home bar. Unaged whiskey + pre-charred mini barrel = one unique gift! Available at the Grand Traverse Distillery or at TASTES of Black Star Farms in The Village | starting at $78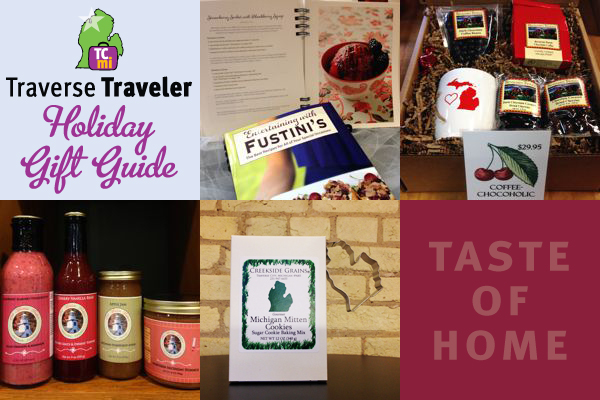 Taste of Home
Fustini's is out with another cookbook, perhaps the best of the bunch. Entertaining with Fustini's is full of recipes perfect for your holiday parties. Available in-store & online at Fustini's in downtown Traverse City | $24.95
For the chocoholic on your list I found a great gift that's pre-packaged and mail ready. The Coffee Chocoholic box from Benjamin Twiggs. It includes Bavarian Dutch chocolate coffee, dark chocolate covered coffee beans, chocolate covered dried cherries, dark chocolate covered dried cherries and a Michigan Love mug | $29.95
The Old Mission Traders "Taste of Michigan" gift box pulls together some of their best new products including Cranberry Almond Vinaigrette, Cherry Vanilla Bean Dessert Topping, Northern Michigan Hummus and Apple Jam made with honeycrisp apples. A taste of Yum! Purchase in store or online from Old Mission Traders | $25.95
Munch on a Michigan mitten this holiday season with this sugar cookie kit from Creekside Grains. The package includes the mix and the mitten cookie cutter. Pick up this locally-made product from MiFarmMarket.com in The Village or online. | $6.99
I hope you've enjoyed my collection of Holiday shopping ideas. You can find all of these items in northern Michigan stores, and many are available on their respective websites as well. Please spend some of your time and money this season supporting our local economy. Your gifts will be more unique, and your money will stay in the community.
Happy Holidays from Traverse Traveler!