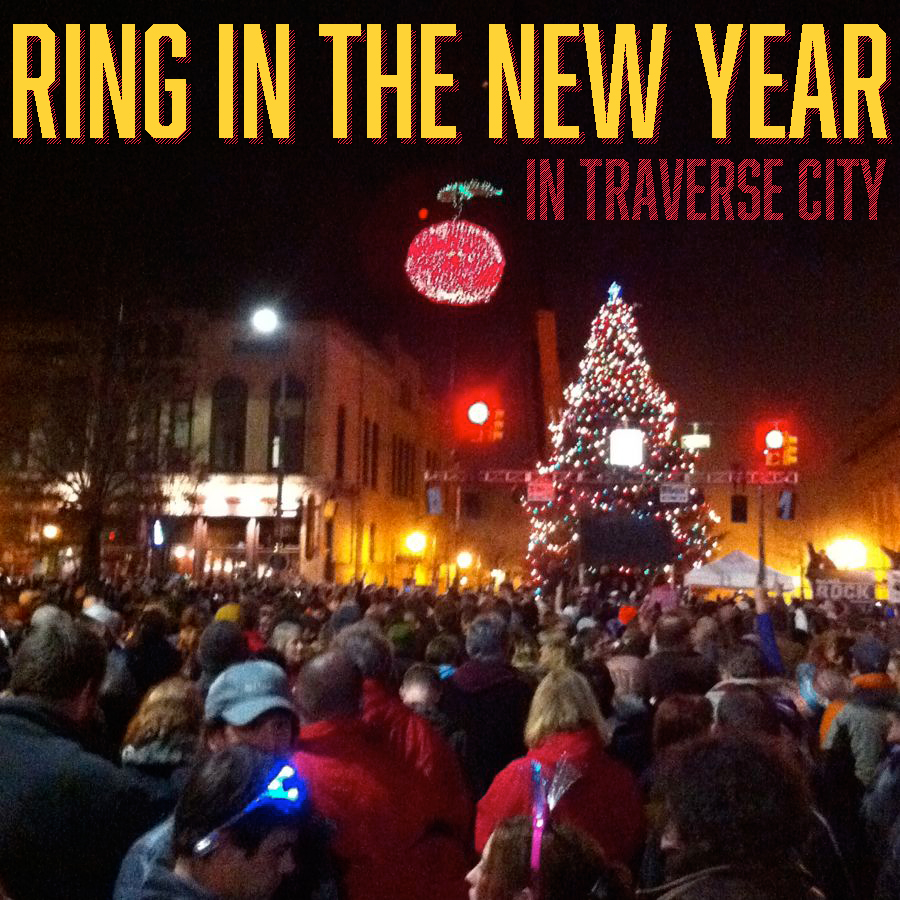 What will you do on New Year's Eve?
If you're like me New Year's Eve sneaks up on you after a long holiday of feasts, friends and family. Sometimes we have a plan, and sometimes we're making it up as we go along. So for all you last minute planners out there here are a few ways to enjoy New Year's Eve up north.
The CherryT Ball Drop
If you've ever dreamed of making it to Times Square on New Year's Eve to be a part of huge crowds chanting a countdown to ring in the new year, then this option is for you (in a much smaller scale of course). Downtown Traverse City is bustling on New Year's Eve during the CherryT Ball Drop. No that's not a spelling error. The CherryT stands for Chartity ball, as the event is a fundraiser by design. The entrance fee is a $3 cash donation or 3 canned goods, with proceeds benefiting the Goodwill Food Pantry.
For all the details about this year's CherryT Ball Drop visit their website.
Family Fun
Looking for a family-friendly way to count down to 2014? How about glow bowling, music, pizza and enough arcade games to keep the kids busy for hours. You'll find it all at Lucky Jacks from 5:30pm – 8:30pm on New Year's Eve. If whipping your friends at laser tag or on the pool table sounds better than freezing outside, why let the kids have all the fun? Show up later for the adult party. It lasts from 9pm – 1am.
Hoping to celebrate outdoors, but not interested in the big ball drop crowds? How about donning your skis for a torchlit parade followed by fireworks? That's what's in store at Crystal Mountain Resort this year. There's an ultimate family pirate party the kids will enjoy, or join the Slopeside party for dinner and dancing along with a champagne toast. Party cover varies. Lift ticket or season pass required to participate in the torchlit parade.
Nightclubs
Shimmers on the Bay inside the West Bay Beach Holiday Inn Resort has two times the fun this year. They've got two bands: Soul Celebration & Twice Shy, along with DJ Shawny D as the host. Rock in the New Year with party favors, an old-fashioned balloon drop, champagne toast and lots of dancing fun. $15 cover
If you're a fan of Billy Strings & Don Julin you'll want to be at InsideOut Gallery for the Swingin' Stringin' New Year's Eve. For a $10 admission you can enjoy the sounds of the True Falsettos and legendary aforementioned duo who will take you clappin' and toe tappin' into 2014. There's a full bar available at the Outre Lounge, or step out for a craft beer and a bite next door at the Workshop Brewing Company.
Bring on the Bubbly
It wouldn't be New Year's Eve if there weren't some corks a poppin'. As always our glasses will be be full of Michigan selections. So we thought we'd share a few local recommendations.
You can't go wrong with L. Mawby this time of year. They specialize in sparkling wines from dry to sweet. My picks shy away from brut, which is why I opt for Detroit or Wet.
One of my personal favorites is only available seasonally from Black Star Farms. The Bubbly Nouveau tends toward the sweet and pink, which makes it a great choice when going to a party. If you're lucky to find any left on the shelves by New Year's Eve pick up a bottle or two. Otherwise log that idea away for next year.
Left Foot Charley is bringing out something special for the holiday. Stop by on New Year's Eve for a glass of their 2010 Gitali, a brut bubbly. Available by the glass (for a limited time) or by the bottle.
Celebrate by Chateau Chantal is another great sparkling wine option from the Old Mission peninsula. It also makes a nice hostess gift if you're attending a New Year's party with friends.
Tasty Treats
My favorite way to spend New Year's Eve is at a house party with friends. But you can't show up empty handed. So I'm going to share a handy holiday recipe that's sure to please.
Cranberry Brie Bites
You'll need:
Washed whole fresh cranberries
maple syrup
granulated sugar
cherry preserves (I like Old Mission Traders or Benjamin Twiggs)
brie, rind removed and sliced in 1/4″ thick slices
water table crackers
fresh mint leaves (optional)
Directions: Soak the cranberries in maple syrup overnight. Drain and roll cranberries in granulated sugar. Assemble the crackers with a slice of brie, top with small amount of cherry preserves and 2 or 3 sugared cranberries. Add a mint leaf as an edible garnish.
They're beautiful, and they taste great!
You've got your bubbly, a great appetizer, and lots of options for how to spend your New Year's Eve. So get out there and party like it's 1999. It may not the be the turn of the century, but I'm looking forward to the turn of the calendar page just the same.
Happy New Year everyone!