The film Garth Trek | A Lost Dog's Adventure in Frankfort is the story of what happens when a dog gets lost in Frankfort and spends the day searching for his owner. This is the revised rendition of the film that took home our Traverse Traveler Choice Award at the 2018 Frankfort48 Film Contest.
We thought you might enjoy the story of how a dog named Garth wandered his way onto the Traverse Traveler visitor channel.
The Frankfort48 Film Contest
Each year the Garden Theater hosts a contest for young filmmakers. They have 48 hours to write, shoot, edit and submit a 3-5 minute film, with a few surprise elements chosen by organizers. Since we love working with young talent–and we love Frankfort–this seemed like the perfect project to support.
We were honored to join the judging committee and select a winner for the Traverse Traveler Choice Award. Along with a prize package, our winner was offered the opportunity to create and edit a commercial promoting the Frankfort48 Film Contest. The commercial will air on the Traverse Traveler Visitor Channel to promote the 2019 Frankfort48 Film Contest.
Garth Trek turned out to be a crowd favorite, judging by the applause. We loved the concept of the video, and who wouldn't love Garth. So we gave T.J. the chance to direct a revised version, and put Garth in spotlight again. Check out the original film on YouTube.
Revising Garth Trek for the Traverse Traveler Audience
The Traverse Traveler visitor channel plays in over 3,000 hotel rooms throughout the Traverse City region. Our programming is designed to educate and entertain hotel guests, as well as provide guidance to area businesses and attractions. We recently added properties in Benzie County to our network, and thought this would be a great way to introduce viewers to Frankfort.
To tell this story for our network we had three challenges for the filmmaker:
Retain the original storyline
Showcase businesses and locations that would attract travelers to Frankfort
Shorten the length to under 3 minutes
To retain the original storyline T.J. kept key shots from the original Garth Trek that we fell in love with. Then we added many new locations and adventures to local hotspots. Finally, we gave Garth a voice. The narration helps travelers watching on our in-room visitor channel follow along with his journey.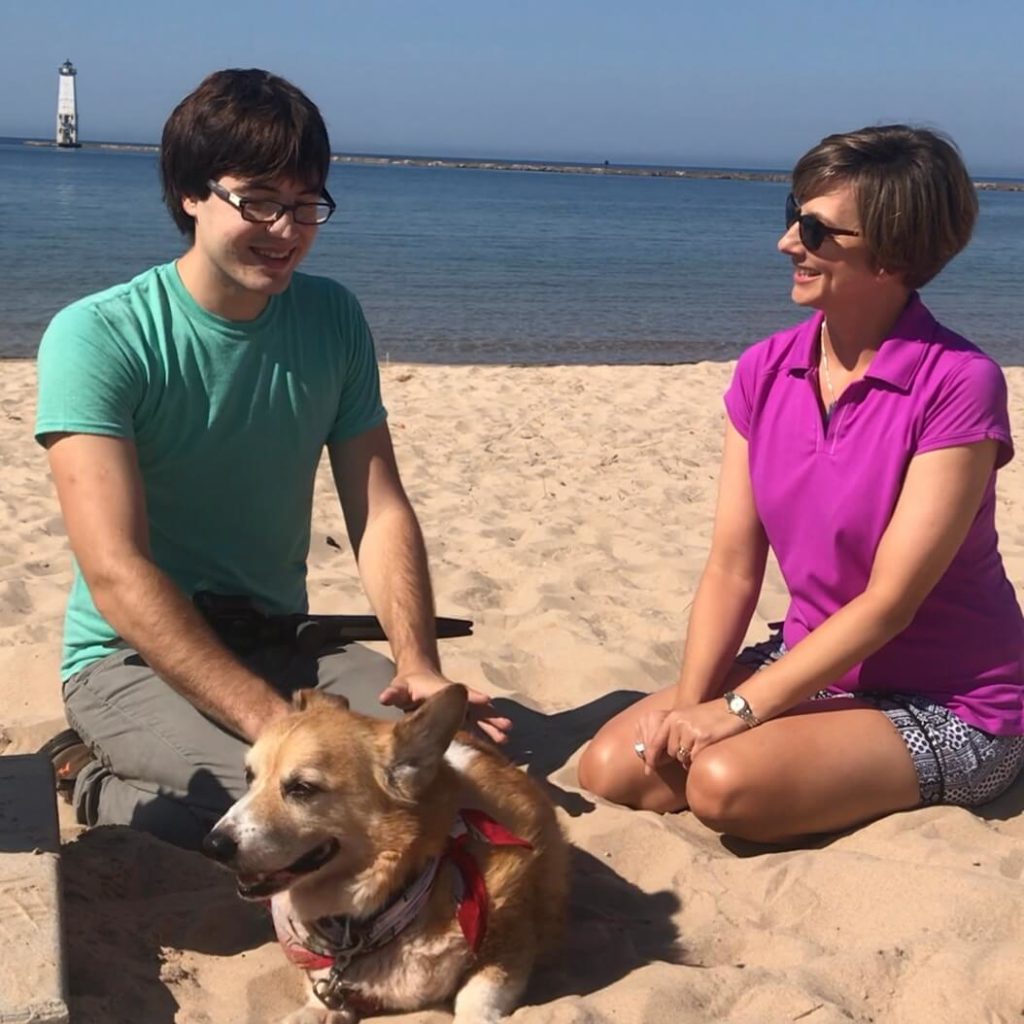 To showcase businesses and locations of interest to travelers we sent Garth to some of our favorite spots in Frankfort including:
The gateway arch
Frankfort lighthouse & pier
Lake Michigan beach
Downtown shopping
Garden Theater
Frankfort marina
Mineral Springs Park
A&W
Stormcloud Brewing Company
Highway M-22
Point Betsie lighthouse
We think our award-winning director T.J. Taylor, and his team, have earned another round of applause. And a special thanks to their canine star, Garth.