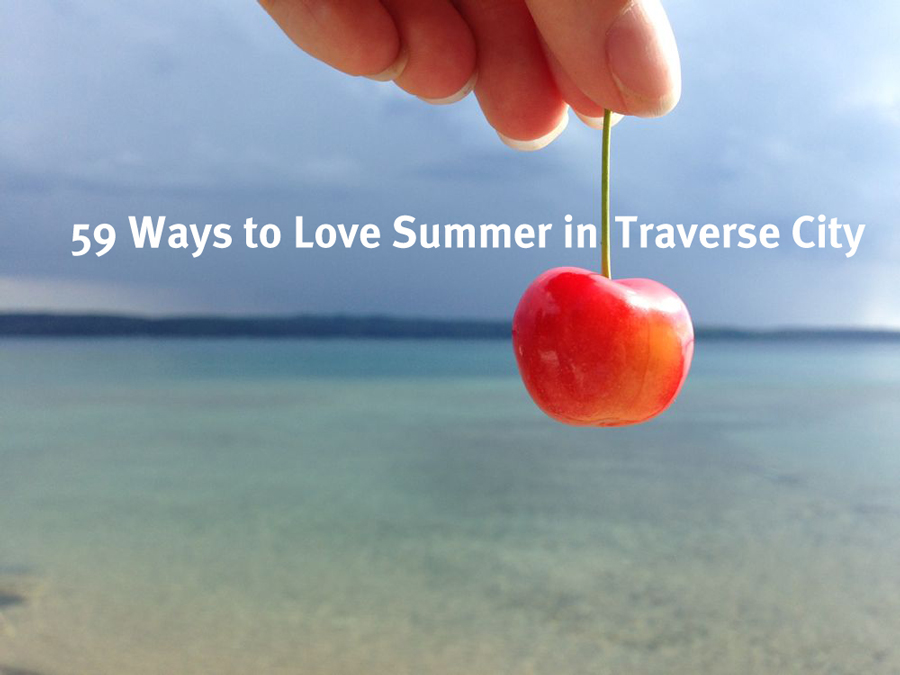 An Up North summer begins and ends on a holiday. That's 59 days to soak up the sun. So I put together a list of 59 ways to squeeze in every last drop of Pure Michigan fun. This year, let's all Be a Traveler in Traverse City. On your mark… get set… go!
Hunt for petoskey stones. Point Betsie is a good stony beach with miles of shoreline for walking. Not sure what you're looking for? Pick up a rock hunting guide from Korner Gem. Kevin's an expert!
Watch a movie under the stars. Get a bucket of popcorn with real butter and experience a time warp at the Cherry Bowl Drive-in in Honor. Or check out the Bike-in TC movies in F&M park, and the week-long Traverse City Film Festival with free flicks at the Open Space in August.
Sip a cold drink under the warm sun. I love to look out over the marina from the deck at Harbor 22, or better yet… cocktails on a boat, in the harbor will do just fine.
Read a paperback on the beach. Ok, so this one makes my list every summer for nothing more than pure selfish relaxation. I'm usually giggling at Stephanie Plum in the latest Janet Evanovich book, but if you're looking for a new read I'd suggest a stop by Brilliant Books in Traverse City.
Buy a flight at a local brewery. Our little town is one of the beeriest cities in the U.S. You'll find a dozen craft breweries in Traverse City and new ones popping up in small towns, like Stormcloud in Frankfort. So grab a flight and drink local.
Bike the T.A.R.T. trail or Benzie trail. Follow this stretch of the T.A.R.T. that runs along Boardman Lake behind the Traverse Area District Library and look for the planetary signs. It's great fun for the kids.
Celebrate our independence with fireworks. We park and walk for miles to Lake Michigan beach in Frankfort with a bag of licorice, glow necklaces and dig our pit in the sand to watch a spectacular show every July 4th.
Reel in a king salmon. Forget the worm, up North, the early bird gets the fish! The best bite is at dawn and dusk, but the thrill of the catch is worth it. On a good day you'll bring home dinner. On a bad day it was a still a nice boat ride that followed the colors of the sun.
Fill a basket with fresh picked fruit straight from the orchard. Stop at a U-Pick farm for a hands-on experience or pull up to a roadside stand and select from nature's best.
Count satellites and ponder the stars. The Sleeping Bear Dunes National Lakeshore holds 'Star Parties' several times each summer where you can explore the night sky through powerful telescopes. Or kick back next to a campfire and watch for meteors.
Try a new restaurant. Our region is blessed with fantastic local eateries. Try one that's new —or at least new to you— this summer. On my list: The Franklin on Front and Cass in downtown Traverse City and Tucker's in Northport.
Walk barefoot along our freshwater coast. Take some time to feel the sand between your toes on a beach walk. You'll find busy beaches along the shores of West Bay, Frankfort and Empire, or seek solitude at the end of a quiet road in the Sleeping Bear Dunes National Lakeshore.
People watch at a festival. From the National Cherry Festival to the Northwestern Michigan Fair to the Traverse City Film Festival there's entertainment to be found in the crowd. You may catch a glimpse of celebrity locals including Michael Moore, Carter Oosterhouse and Mario Batali.
Buy art from a local artist. Local art makes a unique souvenir from your trip up north. Check out Michigan Artists Gallery in Suttons Bay, Gallery 50 at The Village at Grand Traverse Commons, and Art and Soul in downtown TC.
Drink the fruits of our land. The wineries are one of the most popular tourist attractions in the Grand Traverse region. But as a local, I'm proud to say I love them too. Take a trip on Old Mission or Leelanau county and enjoy the fruits of their labor. Before you go, check out my tips for wine-tasting in Northern Michigan.
Jump off a dock. Swing from a rope, dive in a pool, take flight over a body of water and land with a splash. That's summer lovin' at its watery best.
Marvel at a Museum. From unexpected treasures at the Music House Museum, to fine art at the Dennos to hands-on fun at the Great Lakes Children's Museum, there's indoor fun to be had in Traverse City too.
Run down the dunes. The Sleeping Bear Dunes is a must-visit every summer. From the dune climb that overlooks Big and Little Glen, to the quieter spots in the National Park, find your spot to run with the wind in your hair and legs out of control.
Eat dessert from a cone. Is there a more perfect summer food than ice cream? We make regular trips to Moomer's for homemade deliciousness complete with farm views. But if you want to feel like a local order the Cosmo cone from the Dairy Lodge.
Roast s'mores over an open flame. My secret for a perfect s'more:  buy the giant marshmellos, roast until gooey, remove skewer and slip two squares of chocolate inside the marshmello. Squeeze between two grahams and enjoy. This will be the most delicious mess you eat all summer.
Float down the Platte. Whether you like to bob on a tube, cruise in a kayak or navigate with a canoe, a trip down the Platte from Riverside Canoes is the best way to enjoy the river. Plan to spend some time at the mouth swimming in the warm current as it empties into Lake Michigan.
Dinner at the Manitou. After spending my high school and college years as a waitress here I can't let a summer go by without a trip to the Manitou Restaurant on M-22 near Crystal Lake. No skimping either. Start with the skinny dippers and finish with blueberry raspberry pie.
Climb a lighthouse tower. Nothing beats the view from the top of a lighthouse in Michigan. We're lucky to have several you can climb including the Grand Traverse Lighthouse Museum. Did you know you can see four islands from their tower?
Ride the new Heritage Trail. Bikers will want to check out the brand new Sleeping Bear Heritage Trail that runs from the Dune Climb south to Empire. It's a beautiful new addition to the park.
Dine al fresco. I do a lot of grab-n-go dining as I'm on the road. But in the summer I try to slow down for a meal al fresco. Check out the seating at Morsels along the Boardman River for a coffee or snack. Or grab a bite from the food trucks that park at The Little Fleet.
Buy fresh fruit from a roadside stand. Cruise up M-37 on Old Mission Peninsula and you'll find lovely roadside stands all summer selling cherries, peaches, apricots and flowers. Some are washed and ready to eat.
Play golf. This region is surrounded by world class golf courses so grab a tee time. My favorite course has waterfalls, pirates and a zipline that traverses over the go-carts. Yep, I'll be working on my hole-in-one at Pirates Cove.
Take the boat to South Manitou Island. If you want to experience true north, the way it was before settlements took hold, then take the Manitou Transit from Leland and visit South Manitou Island. Climb the lighthouse, walk the beach and look for shipwrecks off the coast.
Shop around M-22. Some of my favorite summer shops are scattered among coastal towns along M-22. I always sneek up to Suttons Bay to visit The Happy Woman, and At Home, Haystacks has my favorite skirts, and check Wildflowers in Glen Arbor for great garden gifts and fun jewelry.
Photograph a sunset at Point Betsie Lighthouse. The most photographed lighthouse in the state, Point Betsie is an iconic subject for so many reasons. Catch the light at sunset, with waves crashing along the sandy shore… it's a moment worth capturing on film.
Pick blueberries. It could be strawberries, or cherries, but every year I say I'm going to pick blueberries from one of the farms on Old Mission or in Benzie County but I never make it! This is going to be the year.
Visit the Crystal Lake Alpaca farm. Along Grace Rd between Benzonia and Frankfort you'll find the Crystal Lake Alpaca farm. Bring the kids to pet the animals, and bring your wallet to buy some of the amazing clothing and gifts they make on-site.
Drink from Mineral Springs. I don't know if this makes you a tourist or a traveler. But every year my family drinks from the Mineral Springs in downtown Frankfort. Drink for tradition, drink for good health, but hold your nose. I still don't like the smell.
Learn about our legends and lore. Our native American heritage fills this region with legends, artifacts and traditions. Spend a day at the History Center, or Eyaawing museum near Suttons Bay to learn about our native cultures, and the people who built these communities.
Find a secluded beach. Most days I'm happy if I can squeeze my towel in between beach goers from all different states, and watch families enjoying the shoreline. But somedays I seek a quiet place to walk and think. Find a happy stretch along the shore and relax.
Set sail on Grand Traverse Bay. Kids will love to help hoist the sails aboard the Traverse Tall Ship Manitou that cruises daily on the bay. Looking for dancing and cocktails? Check out the Nauti-cat. And if a romantic sunset is what you seek, set sail aboard Scout.
Take a behind-the-scenes tour. Whether you're a foodie, a history lover or wine geek there's a tour to be had if you ask. Sign-up online for a tour at the Grand Traverse Distillery or take an historic tour of the old state hospital grounds at The Village at Grand Traverse Commons.
Listen to a concert at Interlochen Center for the Arts. We are so blessed to have a world renowned school for the arts in our woodland backyard. Once you've listened to an Interlochen concert at Kresge with the summer breeze on your shoulders and music in the air, you'll make sure this is on your list every year.
Catch up with old friends. From backyard BBQs to campfires to a night on the town summertime is my favorite time to schedule time with old friends. Each year I meet my college roommates for at least one weekend of out-of-town fun.
Make new friends. When you sit down at the bar for a cup of coffee, or are waiting in line at a popular restaurant, strike up a conversation with the person next you. More often than not I'm amazed by our connections and what a small world this really is.
Tour a local art fair. From craft fairs to fine art juried shows, there's an artfair somewhere nearly every weekend in the summer. I never miss the Frankfort art fair in August, but not just for the art. I'm in love with the chicken dinners they cook in the park. Best Chicken EVER!
Boat party at the sandbar. The party crowd heads to Torch Lake where the sandbar is legendary. But the locals? We hang at Power Island when the beaches get crowded. Don't have a boat? No problem. Hitch a ride from Bowers Harbor over to Power Island on the new transit and you'll find pop-up parties all summer long.
Get soaked to the skin in the warm summer rain. Surprise your kids, and perhaps yourself, when you throw logic and reason out the window and dance in the rain. No umbrella, no shoes, just pure spontaneous fun. I promise this will bring a smile to your face on a rainy day.
Pick a bouquet of wildflowers. Baby's Breath, Queen Anne's Lace, wild Thistle, there are dozens of lovely wildflowers growing along the roadside. Pick up a field guide to help identify flowers, rocks and animals found in northern Michigan. Just be sure you don't pick anything protected.
Watch a ball game. Traverse City has the Beach Bums to quench our thirst for America's pastime. Their beautiful stadium just outside downtown Traverse City is fun for the whole family. And every game finishes with fireworks.
Visit Fishtown. Browse the quaint shops that line the century-old fishing wharf, pick up some smoked whitefish from Carlson's, have a Chubby Mary overlooking the falls or grab a pretzel bread sandwich from the Village Cheese Shanty. A day in Leland's fishtown is a summer must-do.
Tell stories around a campfire. Beach bonfires, campground fires surrounded by tents, patio hearths with potbelly stoves, pick your poison and enjoy one of summer's iconic experiences. I like mine on the shores of a lake telling stories of summers past.
Shop the farmers market. We are blessed to live in an agricultural paradise. And that's never more apparent than on a trip to the farmer's market. Every town has them.
Eat cherries everyday! Well, maybe not that often. But when you live in cherry country why not enjoy it? Benjamin Twiggs has everything Cherry so you can shop to your heart's content. And if you just want a sweet cherry treat: stop by Reflect Bistro inside the Cambria Suites for a cherry bread pudding that's to die for!
Party in the street. Wrap up the week with an evening at Friday Night Live in downtown Traverse City. Buy a balloon, enjoy live music, have your face painted. A perfect place to be a kid again…or bring one.
Savor a simple homebaked snack. The smell of warm bread or cookies coming out of the oven is delicious any time of year. If I walk into Pleasanton Bakery I'm walking out with their Parmesan Olive bread and one of the fudgiest brownies I've ever tasted. So much yum!
Get out on the water. Hop on a boat or a jet ski and ride out to where the deep water lives, clear and blue green as far as the eyes can see…and dive in! That is pure Michigan bliss.
Eat your fill of fresh sweet corn. Nobody beats Hall's farm on North Long Lake Road in Traverse City. For a fabulous summer salad try this corn and blueberry salad. It's great served like a salsa with tortilla chips too. My secret potluck party weapon.
Photograph the everyday moments. It's not the parties and holidays that spark nostalgia but the details of summer memories past. Capture the special places, people and things in your life. You'll thank me later.
Play a sport on the lawn. Badmitten, croquet, bocce or new favorites like ring toss and bean bag games make fun family competitions a must-do for summer. For an entertaining contest try shooting ping-pong balls off of golf tees with rubber bands.
Spend a hot day at a cool pool. My kids love the outdoor pool at Waters Edge at Crystal Mountain and can't wait to try their new ropes course that lies above. Or you could stay and play at the Great Wolf Lodge in Traverse City, an indoor waterpark resort.
Explore The Village. Wander the old state hospital grounds inside the Grand Traverse Commons, also known as The Village. Sip wine or cider at Left Foot Charley, pick up some Michigan gear at High Five Threads, or walk the trails that wind all around Traverse City's version of Central Park.
Watch a movie at an historic theater. Our community is lucky to have several renovated theaters back in action. The State Theatre in Traverse City,  The Garden in Frankfort and the Bijou by the Bay (formerly the Con Foster Museum). Restored classic theatres where the movies are great, and so are the prices.
Eat, drink and shop local. Summer is the absolute best time to enjoy the bounty of northern Michigan and support the businesses that thrive on the extra traffic. So eat at a local hotspot, drink our wines and beers, and buy something that will forever remind you of this summer. The summer you spent enjoying EVERY DAY in this beautiful land of ours.
I'm Brandy from Traverse Traveler, and this is my list. I hope you'll find something on it to add yours. If you have a favorite that I've forgotten, please add it in the comments. I love to discover new ways to enjoy this community. Happy Summer everyone!