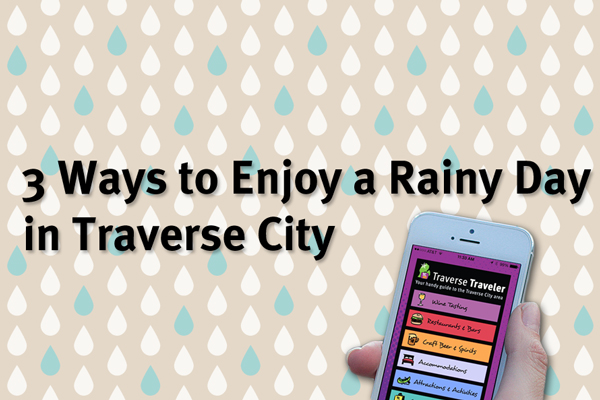 Onto every vacation a little rain may fall. But don't let bad weather ruin your trip to Traverse City. You just need to give your plans a little flip. Today we're going to explore three indoor attractions that offer activities for everyone in your family. We'll turn those rainy frowns upside-down!
Rainy Day v.3 from ExploreTC on Vimeo.
Family Fun at Lucky Jack's
When mother nature throws a wet blanket on your outdoor family fun, head to Lucky Jack's, where blue skies are not required. Inside these doors you'll find 50,000 square feet of boredom busting fun! Locally owned for over 50 years Lucky Jack's is the largest bowling center in the region. With bumper rails and ball guides kids of all ages can stay out of the gutter and score a strike.
Need to burn off some excess energy? Suit 'em up for a challenging game of laser tag. Or test your skills in the arcade. Keep track of all your activities and points with the Fun Card, then cash in, for the loot of your choice.
Lucky Jack's knows how to keep kids and parents happy. Did I mention they have a full bar, and some of the best pizza in town? That's why they're known as Traverse City's FUN Destination.
Take Aim at Shooter's Range
Let's face it, the little kids aren't the only ones pouting when plans get cancelled due to weather. When it's too rough to fish, or to wet to golf, the temperature's always perfect at Shooters Indoor Gun & Archery Range.
Northern Michigan is a hunter's paradise. And this place, is where they come to hone their skills. Shooter's 8 lane firearm range allows shoppers to try before you buy. They even offer lessons if you're new to the sport – like me.
If archery is more your style take aim at one of 15 life-size targets in their 3-D course. Or step inside the technoHUNT simulator where you can stalk a whitetail deer or an animal on safari. From guns to ammo to bows and arrows Shooters can outfit any Michigan sportsman —or woman. So visit Shooters. Where they aim…to please.
Shop in Comfort at Cherryland Antique Mall
Update: The Cherryland Antique Mall is now closed. However antiquing in the area is still a great rainy day option.
On a sunny day you'll find our downtown streets are filled with shoppers. So what's a girl to do when she's dying to buy something new, and window shopping is out of the question? How about searching for something new to you.
The Cherryland Antique Mall is filled with treasures of times gone by. It's a far cry from the hot dusty flea markets and auctions my parents used to drag me to. Here you can browse to your hearts content, in air-conditioned comfort. I can spend hours strolling through these isles. Booth by booth you'll find a wide variety of antiques, furniture, vintage jewelry, memorabilia and collectables.
Why not pick up a unique souvenir from your trip up north… one with a little history attached. The knowledgeable dealers at the Cherryland Antique Mall will help you find just what you're looking for.
So when your plans are cancelled because the forecast is wet, remember these rainy day ideas for a Traverse City vacation you'll never forget. Download the Traverse Traveler app for directions to these — and many more — rainy day attractions.