What is Traverse Traveler?
If you're visiting the Traverse City region, YOU are a Traverse Traveler. And it's our job to be your handy guide as you explore this beautiful community.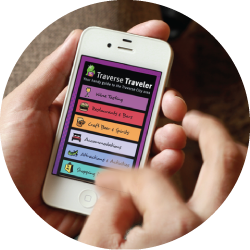 Whether you're an adventure traveler, history buff, culinary tourist, wine lover or are seeking some family fun along our Pure Michigan shores—Traverse Traveler is here to help.
Our adventure began in 2001 with a little card display created for the hotel lobby. Each display offers folding pocket cards with useful information and a custom map for an area winery, brewery, nearby restaurant or attraction. And the best part is they fit in a pocket or purse. How handy is that?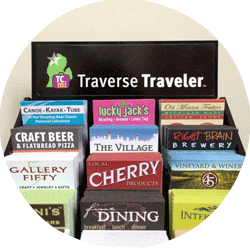 Today you can find Traverse Traveler card displays in over 70 hotels, resorts and wineries throughout Grand Traverse, Benzie and Leelanau county. We believe there will always be a need for grab-and-go information for area visitors. And for the tech savvy, there's the Traverse Traveler app.
Traverse Traveler was the first FREE app in northern Michigan sharing information about lodging, dining, activities and services in the region. We hope you'll use our mobile guide while visiting the region, and as a resource for planning your trip to Traverse City.
Meet Traverse Traveler
Brandy Wheeler is the owner and creative force behind Traverse Traveler. With a degree in Visual Art from Albion College, years of experience in graphic design, and a passion for northern Michigan, Brandy set off on an adventure as an entrepreneur. She shares her love for this region by promoting the unique people, places and things that make Traverse City and the surrounding communities so special.
When she's not filling card displays, tweeting about events or posting photos of delicious local dishes, Brandy is advocating for autism, a cause close to her heart. She's the founder of the Traverse Traveler Scavenger Hunt for Autism, a fundraising event that has raised over $25,000 to purchase iPads for students with Autism at Traverse City Area Public Schools.
Brandy lives in Traverse City with her husband and two children.